Posted on
November 15th, 2007
by Lexi
"What a load of crap" he yelled at me. The weight of his pain was evident in the way he moved. The depth of his pain was evident in his anger.
"I've been authentic," he continued. "I've been nice, and all that happens is that I am permanently placed in the 'friend-zone'. She'll talk to me about the guys she likes and I never have a chance of being one of them. The only thing that gets me anywhere towards a relationship is being manipulative and playing games, because they are the only hope I have of not ending up in the friend-zone. Because that's what you women do, you just play games."
Ouch.
He was reacting to something I said in response to a speaker at a conference I was at. In this context I specified gender, but what I said was really about any person:
When you are your authentic self, you have the opportunity to model that authenticity for others. This may help another in finding their own authentic self, and that is intensely valuable.
He was angry. He had heard all his life, "Just be yourself and others will like you." To him I espoused a belief that was contrary to the evidence of his life. To me, he had been cautious all his life so others would like him. His anger helped him throw caution to the wind and get in touch with what needed to be acknowledged. His anger held his hand the entire way. I still need that sometimes.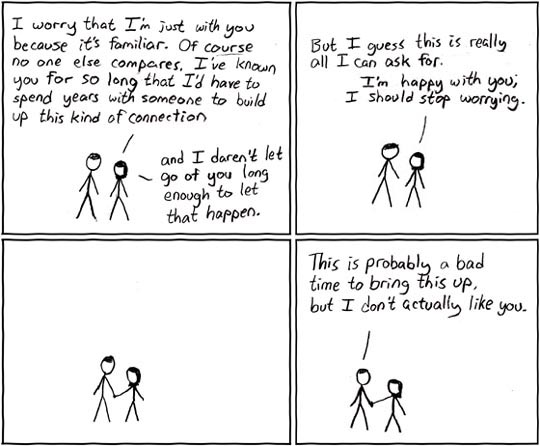 I fought my urge to walk away. Walking away would not be congruent. Other people told me to leave him alone because he wasn't worth my time. That he wasn't ready to step-out of his pain. That he was a lost cause.
Those people who told me I was better off walking away meant well. One of them didn't want to see me blasted by his misdirected anger. The rest were echoing their own reactions to the situation. And if I had listened to them, I would have suppressed my desire to do what I thought was right for me.
We get messages suppressing our experience of ourselves all the time. They may start when we are young, often before we can talk. The parent who tells their child to put a jacket on because it is cold outside, ignores the fact that the child does not feel cold, and is not in danger of hypothermia or frostbite. The parent ignores that the child is capable of asking for or getting the jacket when they are cold. [1
]
Seems benign, doesn't it? Telling a kid to put on his jacket because you don't want him to be cold. The message is: his perceptions are not trustworthy. He is not trustworthy. This example is not likely to be damaging if the kid also gets reinforcement for their perceptions of reality.
A more damaging example: The six year old girl who makes a call to 911 because her father is holding her infant brother while yelling at and hitting her mother. She reports what is going on as she sees it, and then the father gets on the phone and tells the operator that nothing is happening and the mother then says they're just talking, it's no big deal.
The little girl learns: her perceptions are not trustworthy. That people who love each other, hit each other. That she is untrustworthy. Yet, the reality is she is the only one who seemed to be in touch with reality enough to call 911.
There are a lot of messages we get like that some of which come from a place of caring, and others which may come from somewhere else. If we're lucky we get a lot of messages affirming our perceptions to balance things out.
In my opinion, the dictates contrary to our perception can deaden our sense of authentic self. I believe that when we loose touch with our authentic selves, the less we are accurately able to care for ourselves, because we are used to being trampled. We end up trampling ourselves, and letting others trample us. We don't know how to be ourselves. And it shows.
If we are really lucky, we affirm our own perceptions and are able to test or believe in our experience regardless of what others say we should think, feel or do. We get to be accountable for our decisions and actions, wrong or right. We learn, grow and change, or stay the same. When we are practiced in accepting ourselves for whatever we may feel , we have a wider range of responses. We are not as bonded to the scripts of our pasts nor are we as likely to stuff ourselves into the boxes we should be in.
When we are able to be our authentic selves, we are not always liked. When I am closer to my authentic self, I am less concerned with being liked by others, and more concerned with how I am honoring myself whether in pain, in joy or anywhere in between. The more I accept me, the more I feel confident in who I am.
He brought up another point. That being manipulative and playing games gets others to like him. And that others are game players too! I don't doubt any of that.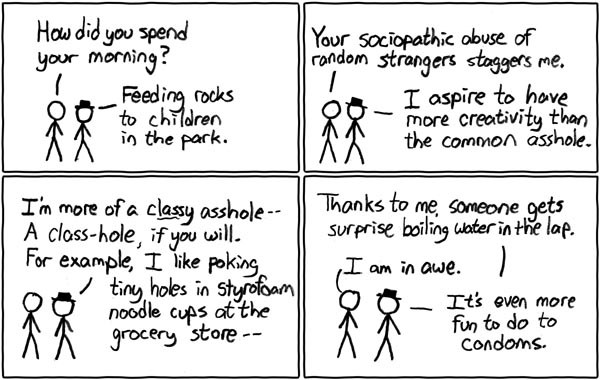 The word "manipulative" gets a bad wrap. I usually hear it in the context of distorting reality or facts in order to get one's own way from others. A trick! It can also mean fixing mechanical parts, or using a tool skillfully. In this context, I'm referring to the negative connotation of the word.
It can be easy to be able to present confidently when being manipulative. If people don't like you, it is easy to not take personally. It is, after all, a facade. A protector of emotions. When the manipulative self seems more likable than the authentic self, it can seem painful. So painful that perhaps the person attempts to adopt the the facade as themselves. The confidence that comes from the manipulative self being liked, seems more like arrogance.
Being confident in the skills of the manipulative self is separate from the confidence that comes from acceptance of self no matter the state. One is faith in the ability to deceive others, which brings with it the danger of not being able to connect with them even if they like you because of your manipulative behavior. The other is the calm that comes from accepting the self as is, which can aid connection. Arrogance is pretending to be competent in something and being confident to the point of superiority as a result of that over inflated competence.
There are so many ways to be in the world. I know few people who are able to be their authentic selves most of the time, they are able to acknowledge and integrate negative and positive emotions and responses in a healthy way. They are at ease in their own skin, and it shows. They are themselves, and not everyone likes them, and that's ok. It seems easy for the people I know that are their authentic selves to like themselves.
Lexi*